Best beaches northern Spain for summer 2023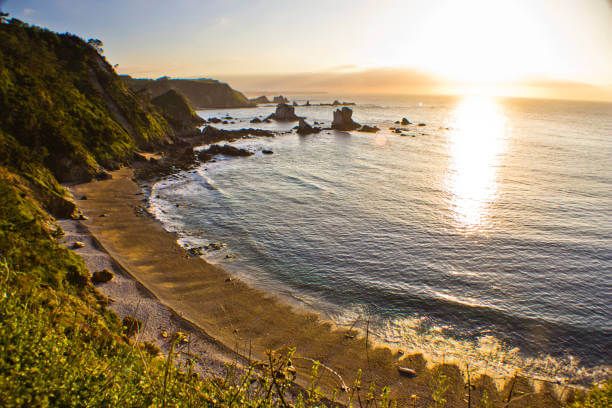 The sunny shores of Northern Spain in summer! A place where the salty sea breeze, the golden sand, and the endless waves of the Atlantic Ocean come together to create a holiday paradise like no other. Let's explore some of the best beaches Northern Spain!
With its picturesque seaside resorts, this region is a haven for tourists looking to soak up the sun, splash in the waves, and enjoy some much-needed relaxation. From San Sebastian to Santander, and everywhere in between, there's no shortage of destinations to explore.
But don't be fooled by the laid-back atmosphere – Northern Spain's beaches are bustling with life during peak season. With 50 to 150 thousand tourists flocking to the region each year, you'll be sharing the sand with plenty of fellow sun-seekers.
So pack your sunscreen, grab a towel, and get ready to experience the beauty of Northern Spain's seaside resorts in all their summer glory!
Five Best Northern Spain beaches
Are you looking for the best quiet beaches Northern Spain offers? Look no further! These are our top picks to find the most beautiful and sought-after beaches in Spain.
La Concha Beach, San Sebastian
Playa del Sardinero, Santander
Playa de las Catedrales, Ribadeo
Playa de Gulpiyuri, Llanes
Playa de Rodas, Cies Islands
These are the top five most visited beaches in Northern Spain. They all offer stunning scenery and crystal-clear water, as well as plenty of opportunities to sunbathe, swim, and do other water sports.
These beaches are best visited during the summer months (from June to September), when it is sunny and warm. These beaches can be quite crowded in peak season. If you want a more peaceful experience, then consider going in the shoulder season.
You can create an itinerary to include all five beaches if you are planning on visiting them all. You can easily travel between them because they are all within easy reach.
The majority of these beaches are sandy except for Playa de las Catedrales which has unique rock formations. They all have public beaches and provide a variety of amenities, including restrooms and lifeguards. Take into consideration that best beaches Northern Spain offers are almost always overcrowded.
Let's now take a closer look on each one of these beautiful beaches.
La Concha Beach, San Sebastian
There are a lot of great Northern Spain beach towns. La Concha Beach has been called one of the best urban beaches in the entire world. It is found in San Sebastian, a beautiful city with a vibrant cultural scene and stunning architecture. The crescent-shaped bay is ideal for swimming and has soft, warm sand. Make sure you visit the nice beaches in Northern Spain provided specifically for visitors. There are numerous amenities such as showers, changing rooms and sun loungers. A promenade runs along the beach and is lined with cafes, restaurants, and shops. This makes it the perfect spot to enjoy a day in sun.
Playa del Sardinero, Santander
Playa del Sardinero lies in Santander. This long beach is made of soft, golden sand with crystal-clear seas. The beach can be divided in two sections. This section has a variety of bars, restaurants, and cafes. There are also showers, changing areas, and sun loungers. The second section is more tranquil and offers a more relaxing experience. If you visit this place, you will have a full motivation to visit other best beaches Northern Spain offers you.
Playa de las Catedrales, Ribadeo
Playa de las Catedrales or "Beach of the Cathedrals", is located in Ribadeo (province of Lugo). This beach is unique because of the amazing rock formations created over thousands of years by the sea, which have left behind arches, caves, pillars and other features that resemble a cathedral's interior. Visitors are welcome to walk along the beach and see the striking rock formations. But, it is best to verify the tide schedule before visiting the beach. There are some other warmest beaches in Spain, that you can have a look around and visit. Also, there is one of the best Northern Spain coastal towns.
If you want to visit Spain and see these amazing beaches after 2023 you will need new type of travel visa. Approved by the European Union in 2018, The European Travel and Information Authorization System ETIAS intends to pre-screen visa-exempt "Third Country" Nationals prior traveling to the EU. It will be mandatory for every non-EU national who don't need visa to travel to Europe.
Playa de Gulpiyuri, Llanes
Playa de Gulpiyuri is a small, secluded beach located in the town of Llanes. What makes this beach unique is that it's actually an inland beach, located over 100 meters from the sea. The beach is fed by underground water sources that create a natural pool with crystal -clear water that's perfect for swimming. They say that Northern Spain beach resorts have been getting popular time after time. The beach is surrounded by cliffs and green hills, making it a truly idyllic setting. There are no amenities available on the beach itself, but there are plenty of restaurants and cafes in the nearby town of Llanes. It is one of the best beaches North East Spain.
Playa de Rodas, Cies Islands
Playa de Rodas is located on the Cies Islands, a stunning archipelago off the coast of Galicia. This beach has been voted the best beach in the world by The Guardian and offers white sand, turquoise waters, and stunning views of the Atlantic Ocean. The beach is surrounded by a natural park and is home to a diverse range of flora and fauna, including rare species of birds. There are no hotels or restaurants on the island, but visitors can camp or bring a picnic to enjoy on the beach. It can probably be the one of the best surf beaches Northern Spain offers.
As mentioned above, ETIAS will have a huge impact on world travel after 2023. Your ETIAS authorization will be valid for three years per one passport. Also, ETIAS authorization cannot be transferred between the passports. You can check ETIAS application on this website. If you apply for a new passport, you will need to apply for new authorization too.
In conclusion, Northern Spain is home to some of the most beautiful beaches in the world, offering crystal-clear waters, stunning scenery, and a range of amenities for visitors to enjoy. Whether you're looking for a bustling urban beach or a secluded paradise, you're sure to find the perfect destination among our top picks. So pack your bags, grab your sunscreen, and get ready to experience the beauty of Northern Spain's beaches for yourself as these are some of the best beaches in Spain!
The Bottom Line
In conclusion, Northern Spain is a hidden gem waiting to be discovered by beach lovers around the world. While it may not be as well-known as other beach destinations, it offers a unique blend of stunning natural beauty, rich cultural history, and vibrant modern cities. For example, the bustling urban beaches of San Sebastian to the secluded paradises of the Cies Islands, Northern Spain has something to offer for everyone. You can also look for the best beach hotels Northern Spain.
In addition to its stunning beaches, Northern Spain boasts a range of other attractions, including world-renowned cuisine, historical landmarks, and vibrant festivals. Therefore, visitors can indulge in fresh seafood, sample local wines, explore ancient castles, and dance the night away at traditional fiestas.
So why not add Northern Spain to your bucket list? With its mild climate, friendly locals, and breathtaking scenery, it's the perfect destination for a summer getaway or an off-season escape. Whether you're a solo traveler, a couple, or a family, Northern Spain has everything you need for an unforgettable vacation.