Here's Why You Should Visit Malaga in 2023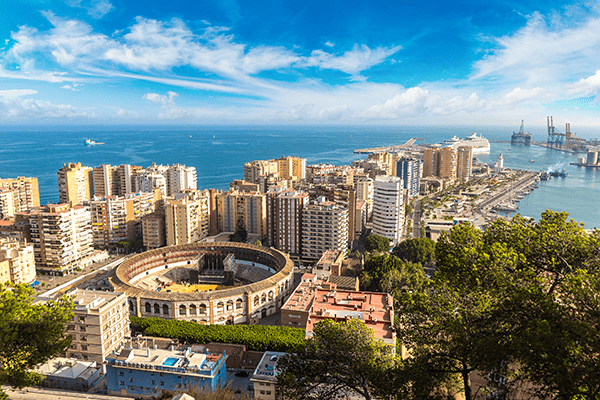 Are you planning to visit Malaga? Tourists will find plenty to do in Malaga, including its beaches, historical monuments, museums, and wide range of leisure activities.
This and the privileged climate you can enjoy all year make Malaga one of Spain's most popular tourist destinations.
You can walk the historic center of Malaga, which is almost entirely pedestrianized. Stopping occasionally to enjoy the delicious food, you'll be able to take in the sights and enjoy a pleasant stroll. You can also ride a bicycle or a Segway if you prefer.
Main reasons why you should visit Malaga
Gibralfaro Castle
The Phoenicians were the ones who built the lighthouse and gave the castle its name. It forms a fortified area that extends along the hill with la Alcazaba. You can enjoy spectacular views from Gibralfaro Castle, which will give you a better understanding of the city's size and location.
Clear days make it possible to see mountains in the Rif mountain range (in Africa) and the Strait of Gibraltar.
La Alcazaba
La Alcazaba, a fortress dating back to the Arab period and built in the 11th century, is known as the "La Alcazaba." Its military aspects make it one of Spain's most significant Islamic constructions.
Although the lattice framework used to protect the interior is impressive, its primary defense comes from its advantageous position. You can fully view the city with Gibralfaro and these two points in Malaga.
Calle Larios
This street is the Andalusian equivalent to Fifth Avenue, Spain's fifth most expensive street. Calle Larios, or Marques de Larios, is the location of significant celebrations in the city, such as Easter, Carnival, and the Malaga Film Festival.
Summer is a great time to walk down the street. The canopies hung from one building to the next to provide shade and protection.
Atarazanas Market
This building dates back to the Nasrid period. It was initially a naval workshop that built and repaired vessels. The market's name Atarazanas, which means shipyard, is a result of this fact. Only a marble door is left from this period.
Its current name is also "Mercado Central" (Central Market). The existing building was designed by Joaquin de Rucoba and was constructed between 1876-1879.
It's worth visiting to admire its unique architecture, including a forge steel exterior and a large stained glass window at the back.
The Roman Theatre
This theatre is located at Calle Alcazabilla. It was discovered in 1951 while working in the gardens adjacent to the House of Culture. The Centre of Interpretation of the Roman Theatre is also available. This allows you to view the lives and traditions of the period.
It is not that expensive to see all these beautiful places. Malaga offers many fabulous tourist attractions and is cheaper than more famous destinations like Madrid or Barcelona. That is one more reason to visit this city.
This magnificent building is the most important monument in the historic center. Because it was opened without the southern tower, it is called "Manquita" or "one-armed."
It has a unique exterior and interior appearance due to its construction during the architectural transition. Many interruptions resulted in corners of very different styles, ranging from Gothic to Renaissance.
Muelle Uno
Muelle Uno is a must-see site because it is considered one of the most important ports in the Mediterranean due to its high volume of passengers and trade traffic.
La Malagueta beach
The dark, sandy beach is less than a kilometer long and can be reached in 10 minutes.
You will find many small areas of palm trees along the beaches. Numerous bars offer traditional espetos de Sardinas (sardine skewers) and other regional dishes. In summer, you can also enjoy an outdoor cinema.
La Alameda Park
La Alameda Park is a park with many subtropical plants that runs parallel to Port, between Plaza de la Marina fountain and Tres Gracia's fountain.
It measures 650m in length and runs along the capital's main street. This makes it a great place to walk any time of the day.
Museums
There are 36 museums in Malaga, most of which can be found in the historical center. Malaga has 36 museums, making it difficult to visit one museum. The Malaga Museum, the Picasso Museum, Jorge Rando Museum, and the Pompidou Museum are worth noting.
Historical places are one of the main reasons to visit Malaga
Malaga's history goes back more than 2,800 years. Various empires have tried to hold it down. The Roman Theatre is located in the heart of the city. It entertained the locals from 1 to 3 BCE. Moorish settlers used the location to build the Alcazaba Fortress, a massive stone citadel that they constructed nearby. It was lost for five centuries before it was found again in 1951. It hosts public performances and has been home to local poets since 2011.
Spain travel regulations
Foreign residents living in European countries will be affected by the new visa waiver regulations for ETIAS (Electronic Travel Information and Authorization System). Citizens of 60 countries will be required to apply for an ETIAS travel permit for Europe. ETIAS will take effect in 2023. New regulations will provide travel authorization to those who don't usually require a visa to enter Europe. Before traveling to Europe, travelers will need to apply for an ETIAS.
FAQ
What is Malaga most known for?
Malaga's most well-known son is Pablo Picasso, a world-famous artist. For art lovers, you can spend hours in galleries and museums. For those who love nature and want to revive a passion for it, there are beautiful contrasts of gardens and rocky canyons.
Is Malaga worth a day trip?
Malaga, which is the entry point to Andalucia in Southern Spain's most populous Region, is well worth a visit. You can easily visit Malaga while on a road trip through Spain. But it can be one of the most extended road trips you will ever see.
Is Malaga safe for tourists?
Malaga is very safe for visitors. It is the sixth-largest city in Spain, and no big city can be completely safe from crimes. Therefore, pickpockets are common, as well as bag snatchers.
Is Malaga expensive?
Malaga is fifth in terms of Spain's most expensive cities, right behind Madrid and Barcelona. If we compare it to other big cities in Europe, the average rent price in Malaga is 55% less than in Amsterdam, but grocery costs are 30% more than in Amsterdam.
Why should you visit Malaga?
Tourists will find plenty to do in Malaga, including its beaches, historical monuments, museums, and wide range of leisure activities. Combine this with the privileged climate you can enjoy all year, making Malaga one of Spain's most popular tourist destinations.